One of the most unique and exciting projects that our team has had the privilege to be involved with. We were honored to be invited by the Hartman's to assist them in reaching their project goals. This endeavor took a good team to bring it all to life that included; a pool contractor, custom concrete contractor, and the T. Davis crew. The ability to work together as a team made it all possible for the Hartman Family.
a year round therapy pool
The Hartman's Key Project Objective
The projects key objective centered around the need for an in-ground therapy pool. The challenge was to create a special space that could be functional and beautiful year round. To accomplish this key object the space was designed with a large span covered rear porch that consisted of no posts to obstruct views or create obstacles. The main structure of the porch would also serve as a support for the retractable bubble enclosure to achieve year round access to the therapy pool. The retractable pool cover is an eye-catching architectural feature that is extremely practical as it can be opened on nice days and closed on cooler times of the year. 
Amazing Finishing Touches
The covered porch area has amazing finish touches with unique lighting, a vinyl board and batten ceiling that never needs painted, stone wainscot and vinyl shake siding. A granite counter was mounted on a custom stainless steel stand to create a place to enjoy dinner or a drink with family or friends. The enclosed pool/porch area also has a point of use heater/ac unit to temper the air in that space so it is never too hot or cold.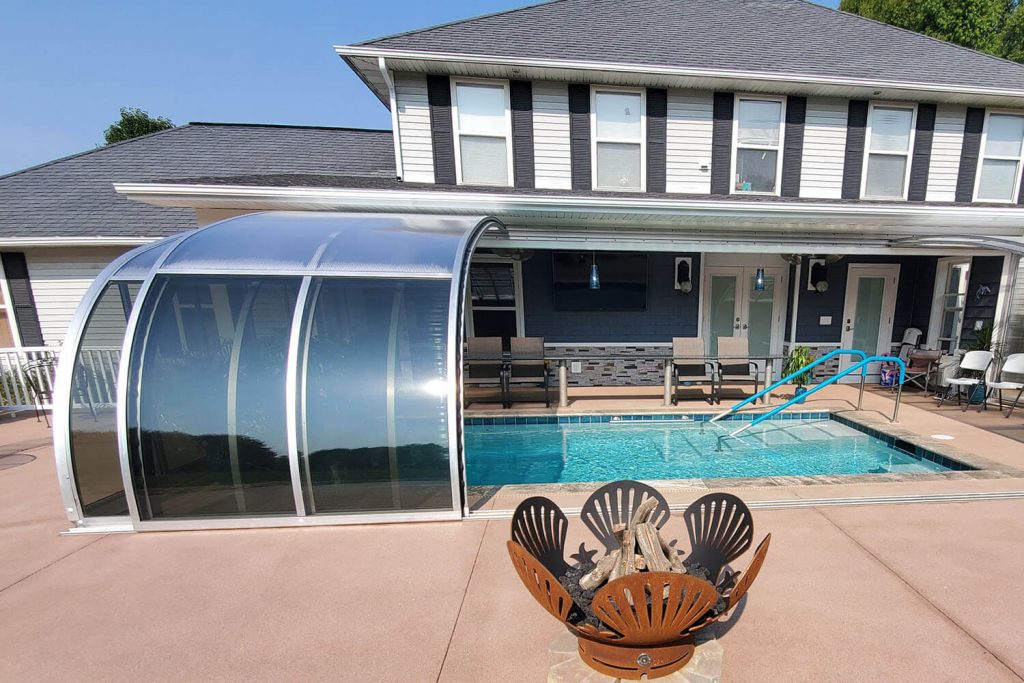 Not only does the heater keep the space warm but outdoors has another important feature: a stunning firepit. This required an underground gas line to supply energy for the firepit and pool heater. These details were important in planning the project to ensure that the proper sequence was followed during execution. Adding to the wow factor was stunning concrete with integrated color and acid etching to compliment all of the pool and porch addition colors. 
One of the best compliments we received came from Fred LeFebvre, the Morning Radio Announcer for 1370 WSPD. Fred has been a business promoter for T. Davis Contractors as well as a good friend. He has been assisting us in getting the word out about our skills and abilities through daily radio commercials and social media. He occasionally performs a Facebook Live event at a jobsite to highlight one of our projects. When he arrived at the Hartman project he was unsure if he was at the correct location because of the transformation from the original photo of the house he received to the finished project!